VisionOnline| PVE | Cap 110|CH & EU|System Silk And Coin| Play 2 Win
Son Düzenleme: 17.02.2018, Saat: 02:21, Düzenleyen: Karakaya.

Open Beta Phase
At this stage,we will try all the features of the game we have been working on it in the last few months, so make sure all of them are working with high efficiency, and that there are no mistakes in them, and we hope that if you find any system is wrong or not working to inform us until we all get Server is free of all errors ,and talk me on page game on facebook
Date Of Beta : 15.02.2018
Grand Opening
This stage is the last stage in which we will have all the errors that were found inside the server and then we are ready to open the game and will be the date of this stage after we make sure that the game is free from mistakes as we said in the past
Date Of Grand Opening : 25.2.2018 12:00 GMT+2
WWW.Play-Vision.Net

Information 
Cap|110
Race|Chinese and Europe
Masteries CH/EU|440/220
Solo Experience/Skill Point Rates|28x
Party Experience/Skill Point Rates|35x
Drop Rate|30x
Alchemy Rate|3x
Trade Goods Rate|25x
Gold Drop Rate|20x
Silk Per hour|1
Max. Plus|+10 No Advance
Fortress War|Jangan
Fortress Time|Every friday At 8.00PM
Guild Limit|32
Union Limit|2
IP Limit|4
Auto Equipment|Until 10th Degree Sun FB +4
Auto Events|Allowed
Fellow Pets|Allowed
CH Balance|Allowed
Oldschool Cape|Allowed
Magic POP|Disabled
PK Level|Disabled

Start Items
Item | Type
Level|1
Skill point|1m
Gold |1m
HP Bag|1000
Mp Bag|1000
Reverse scroll|10
Return Scroll|50
Inventory Page|3
Speed scroll|20
Grab pet 3Days|1
Devil 5% 7Days|1
Avatar New|1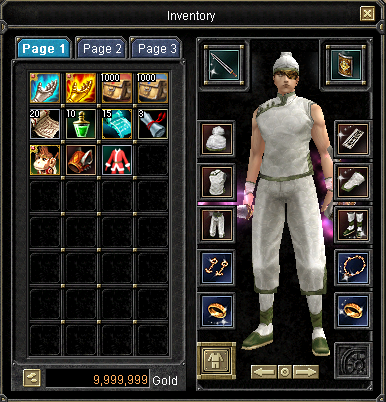 Some Info
Now u Can Get Honor Academy From Uniques Titans
when u kill Unique U Will Get Point Uniques Appear 3 Time In Day
Name Unique Titan
|
Point
TigerWoman| 1
Kerberos| 1
Ivy|1
Uruchi|2
Isyutaru |3
Lord Yarkan|4
Demon Shitan|5
Medusa|10
Roc|20
Now You Can Get Sillk From Normal Uniques (STR - INT ) To Create More Challenge And Fun Between Players
 Name Unique | Silk
Tiger|2
Tiger(STR)|2
Kerberos| 2
Kerberos (STR)| 2
Ivy|2
Ivy (STR)|2
Uruchi|3
Uruchi(STR)|3
Isyutaru|4
Isyutaru(STR)|4
Lord Yarkan|5 
Lord Yarkan(STR)|5 
Demon Shitan|5
Demon Shitan(STR)|5
Roc|40
Medusa|20
All Special In Page Sillk
1- Devil Switcher scroll
2- Maxmium Remover Scroll
3- Advanced Remover Scroll
4- FGW Time Reset Scroll
5- Stats Reset Scroll
6- Reset Skill Scroll
7- HWT Time Reset Scroll
8- Premium Remover Scroll
9- Blue Avatar Remover Scroll
10- Change Name Scroll
11- Job Time Reset Scroll
12- Guild Time Reset Scroll
13- 100 SIlk Scroll
14- 500 Silk Scroll
15- 1000 SIlk Scroll
16- 2000 SIlk Scroll
17- Durg Of Speed 200%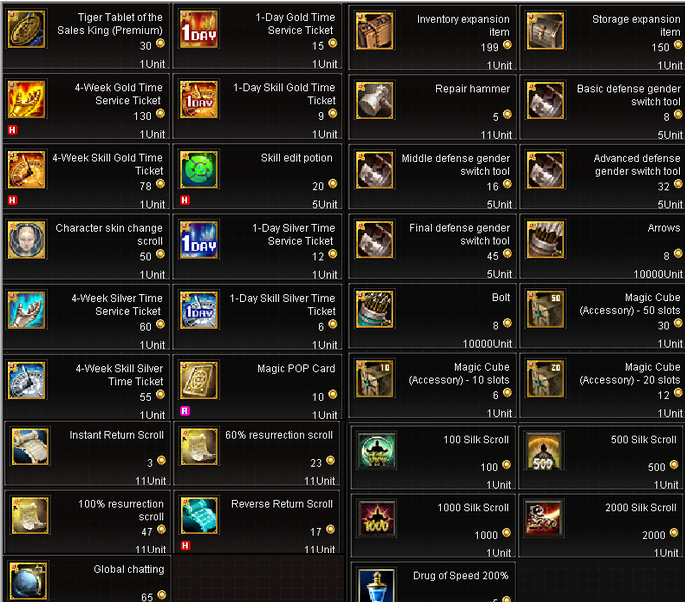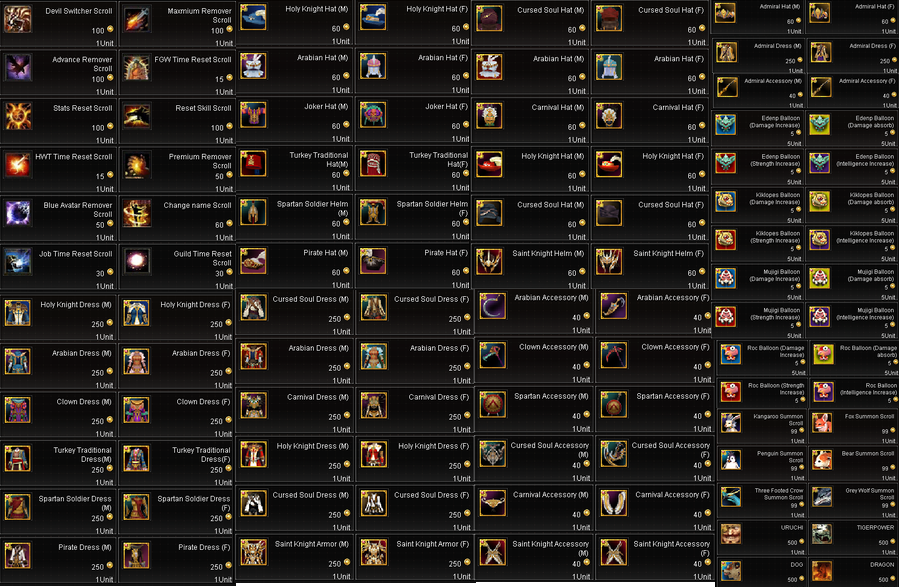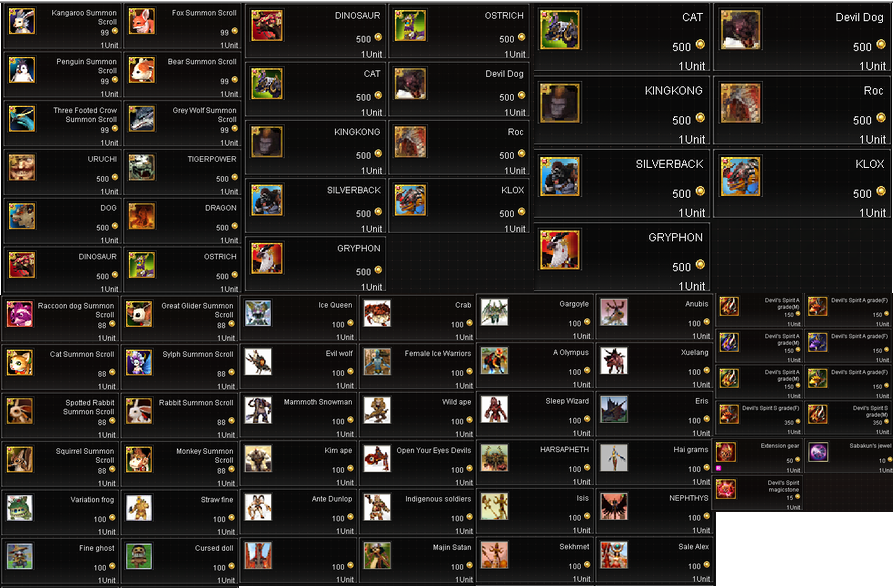 we've Added A Few Things That Will Help You In Server
1= Titles Name
2= Stones And Advance B
3= Avatars
4= Items (Weapon + Set + Accssory) On NPC

[img=0x0]http://www5.0zz0.com/2018/02/09/00/662778735.png[/img]

New Gates Have Been Added Now You Can Get Through To The Places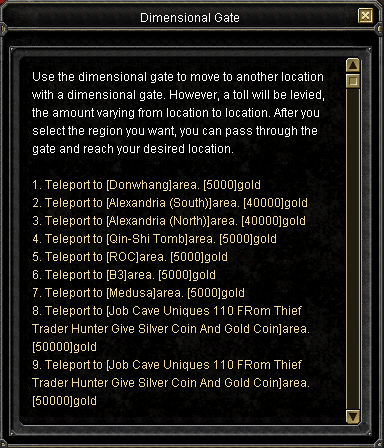 Three Uniques Appeard On 2 Rom On Teleport Jangan Can Teleport This Town Used Job (Trade,Thief,Hunter)
Drop This Uniques Gold Coin And Silver Coin
Make Trader Reward 10 Gold Coin And 10 Silver Coin


All Mops In Alex Drop Items Nova
You can Get Items Egy ( A) Only
From Buy NPC And Forget World Gate

How To Assemble Soket Stones ?
All Uniques On Teample Job Alex (ISIS,SELKIS,SPHINX,OSIRIS,NEITH,SEKHMET,HORUS, APIS,SETH,HAROERIS)

Roc Appeard 2 Time In Day
Every 12H
Medusa appear 4 Time in day Every 3h On Old Area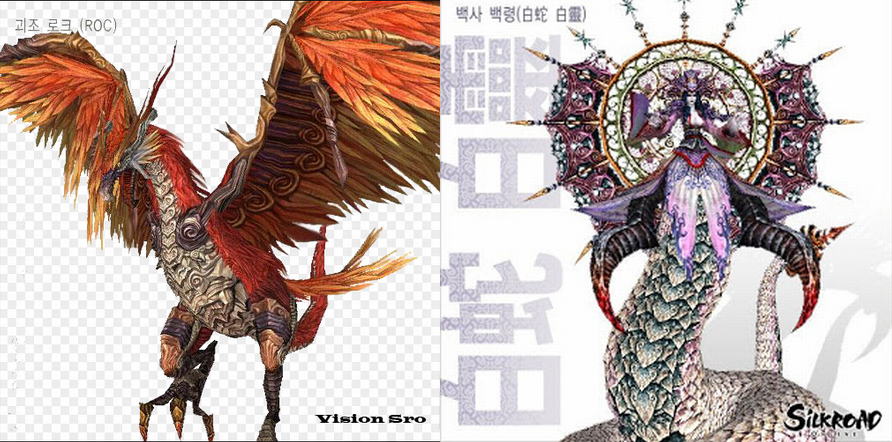 Drop Roc And Medusa
Drops Gold Coin,Silver COin,Arena Coin, Global Chat, Revers Scroll And Stone immortal

Add 5 Uniques
Drops Arena Coin
[img=0x0]http://www14.0zz0.com/2018/02/09/04/665593303.png[/img]

For More Help For Players
You Will Get Reword 200 Silk When You Reach LvL 110

For The Chinese Players We Have Added New Skill For Help
And To Increase At Mastery CH (Bicheon And Heuksal And Pacheon) And Mastery 440


Auto Equipment System
Really , One Of The Most Helpful Systems That Have Been Created By VSRO Vommunity , This System Will Help You To Get Automatic New Level Gear / Weapon With Full Blue Just By Teleporting Or Restarting Your Char.
You will Get FB Seal Of Sun items +4 from ( Degree 1 ) to D10 Max Gear


KillGM
When The Event Start .Bot Order You To Go Donwhang South Gate
And Kill GM With Cap Pvp ..3 Round

Alchmey Event
This Event Make For Player Whose Love Make Plus
When The Event Start ..Bot Will Drop Many Item At Donwhang South 
Gate ..It Order You .To Make Plus .Less Than 15 Minutes
When you Get This Plus You Will Win .And You Will Get Your Reward

Hide & Seek
Bot Will Say Event Hide &Seek.Start After Few Minute
And It Say Where His Place.. You Must Search For It .To Win
( 3 ?Round)

Lucky Party Number
Bot Will Say Numper .And You Must Get This Numper At Paty Matching To Win

Question & Answer
Bot Will Ask You For A Question .And You Must Answer This Question To [GM] Chat ..To Win

Regards Players